straight from austin to you
SALES
Let's Partner Together
NadaMoo! offers the opportunity to partner together with branded mini pints, pints, pails and soft serve available for food service and wholesale with nationwide distribution in the U.S.
Minis
Pints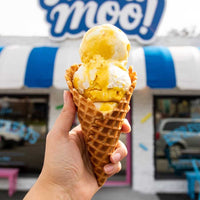 Pails
Soft Serve
How Can We Help?
Tell us a little bit about yourself and what your interested in learning more about by filling out the form below.



NON-GMO
Our ingredients are non-GMO certified, and our manufacturing partners are, too. By the way, GMO stands for genetically modified organism.
GLUTEN FREE
Gluten is a no-go for us. That's why you won't find any in our pints—flaky pie crust included.
AVA VEGAN
None of our stuff contains animal products, byproducts, or have been tested on animals.
B-CORP
We consider the impact of our decisions on employees, customers, suppliers, community, and the environment.
Explore all the Flavors
ORGANIC. DAIRY-FREE. SUSTAINABLE. OH SO SATISFYING.